Horseback Riding at Vista Verde Ranch in Colorado
The Vista Verde Riding Program offers fun-filled, informative clinics mixed in with adventurous trail rides that accommodate all riding levels. We own the entire remuda of about 100 horses, and we match each guest's personality with the perfect "horse-onality" to get you off on the right hoof, 'er foot. Our riding program is about much more than beautiful trail rides. Even those who have ridden all their lives have been known to learn or experience something new while at VVR.

Summer & Fall Horse Program
Quality horses and in-depth instruction
It all starts with the quality of our horses and the care we give to their well-being.  It takes a special horse to do this kind of work, as we need our ranch horses to have a variety of skill sets while also being easy going enough to have a different rider every week. We chose horses for our herd who match up both physically and mentally to this kind of work, and their care is at the heart of our horsemanship program.  Through our in-depth instruction and multiple horsemanship clinic opportunities we teach you how to ride our horses the way we have trained them.  That results in you having a better riding experience, your horse enjoys having you as their rider, and you help them by reinforcing their training so they continue to be willing and happy.  Everyone wins!
The Vista Verde riding program has helped our guests far exceed their expectations in regards to how much they can learn in a week. From both demonstrating how our wranglers are training our young horses, to helping you learn how to better communicate with your own horse during one of our many clinics, you might find that you never want to leave the arena because you're having too much fun!
Over the years our wranglers have developed a variety of different clinics to explore the different aspects of horsemanship, and are suitable to all riding levels. From basic horsemanship clinics to more focused cattle work clinics as well as some that are designed to bring it all together through fun games, you can expand your horsemanship knowledge dramatically through the week and develop a powerful connection with your horse..
Trail Riding in Colorado
Although there are plenty of opportunities to develop your horsemanship skills while at the ranch, there are also plenty of opportunities to hit the trail and enjoy the natural beauty of the Elk River Valley from the back of your horse.
During the summer, we start the week out with a riding orientation to get everyone on the same page, and help you understand how we handle our horses.  Even experienced riders will learn something as every horse is different, and every training style is different.  During the orientation, we will introduce you to your horse and let you get to them him or her on the ground first.  After some basic training drills, we then climb up and head out on a short trail ride to make sure you two are a match.
And then the chose your own adventure begins!
Most days include the option of heading out on the trail both morning and afternoon.  Sometimes we have opportunities to pack a lunch and head out for an all-day ride, with a lunch break in a beautiful setting.  The rides vary based on the ability of the riders, the weather and terrain, and the condition of the horses.  We pair riders together who are looking for similar riding experiences to ensure everyone gets the type of ride they desire.  Family rides are encouraged, and rides will be tailored towards the lowest level rider in the family.

Fall Cattle Round-up
Late in the summer we head out onto over 16,000 acres of forested land to find and round up the cattle before the snow flies. The first part of the week is spent in the arena, honing each rider's skills on working cattle. Once everyone is ready to go, we head out into the National Forest to search out, round up and drive in the cattle. These weeks are for those interested in an intensive, independent riding experience and a lot of time in the saddle.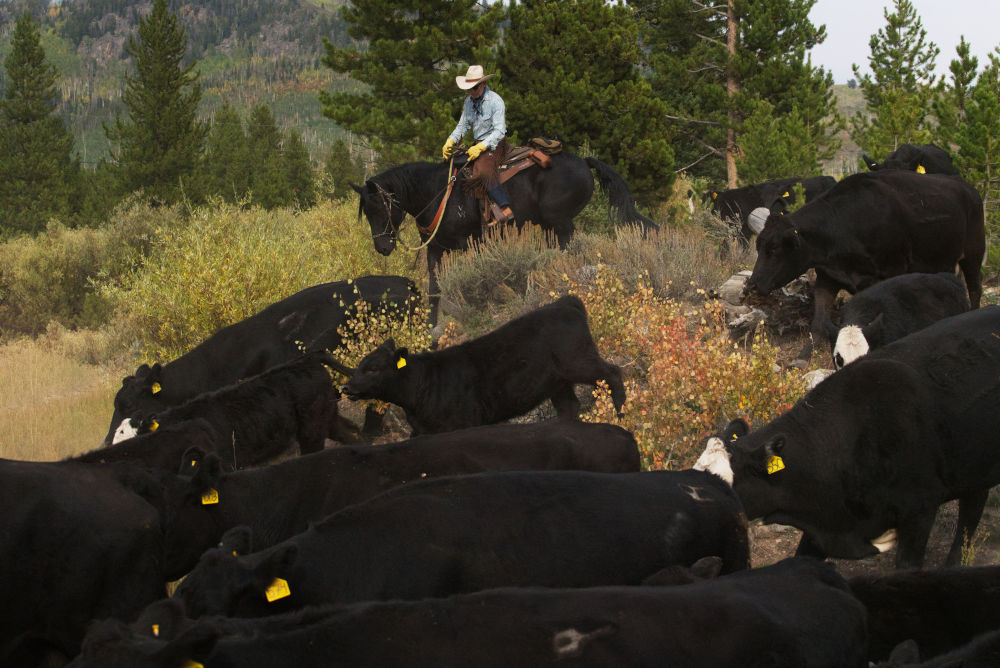 Kids, Tweens & Teens
Just like the adults, the Buckaroos ride the same horse all week, developing a loving, trusting relationship. Our Kid's Wranglers get the youngsters started in the arena, but soon move out on the trail. Kid's rides are available daily. However, family rides are a popular option, and we encourage families to spend time together on the trail. In addition to riding, kids have the opportunity to learn how to groom and care for their horses.
The tweens and teens have exclusive rides for their age groups, and all age groups are always welcome to join their parents for rides.  Not only do we offer adventurous and exciting trails for these young adults, but the program is designed to help them bond with each other and make new friends.
All the kid programs provides age-appropriate instruction for those who really want to expand their riding skills while at Vista Verde.

Safety
All of us at the ranch consider safety as one of our most important responsibilities to our guest, staff, and animals. As a general rule, horses can safely carry loads of up to 20% of their body weight including rider, saddle and tack. Given that, we pay attention to the rider's weight when it comes to horseback riding and we do have a 250 pound weight limit for horseback riding at Vista Verde. Having said that our wranglers consider several factors in determining whether or not an individual is too heavy or too big to ride, including: rider's physical fitness, riding experience and ability, size of the horse, type of terrain, speed of ride, and other factors. We will exercise discretion when addressing these issues and reserve the right to prohibit riding or restrict riding to level terrain, or walk-only rides. Please do not hesitate to contact us to privately discuss specific circumstances.
Also, in order to ride you must be able to mount and dismount independently. We do provide mounting blocks to help our guests and the horses for a more graceful and pleasant mounting experience!

Our Horses
As you can probably tell, we really care about our horses.  They are part of our staff and family!  We try to give them a wonderful life when they are at the ranch, and when the time comes that dude ranch life is too much for them, or if we have one that isn't a fit for the kind of work we do here, then we do our best to find a good home for them.  With that in mind, we have a wonderful partnership with Drifters Hearts of Hope Horse Rescue in Franktown, Colorado. Drifters Hearts of Hope (DHOH) is a 501c3 nonprofit organization committed to rescuing horses and working with special needs children. Horses that are ready to retire from dude ranch life and that we believe are healthy enough for a second home are taken to DHOH, where they are evaluated and adopted out to their new home.
Drifters Hearts of Hope created the Annie Project in 2017, with the intention of partnering with all of the Colorado dude ranches in order to provide ranches a safe option for retiring their horses.  Because of dude ranch horses's extensive training and experience DHOH  is able to adopt horses out quickly. In return, the rescue receives a donation toward their cause for each horse, making it a win for both the ranches and DHOH.  We are proud to be partners in this endeavor.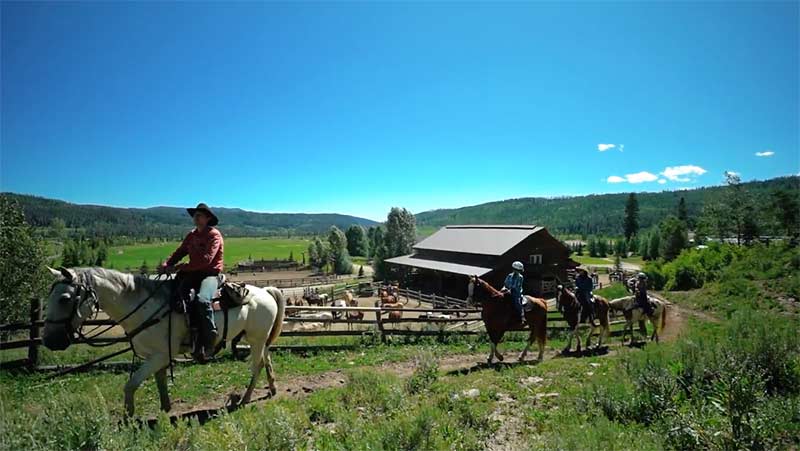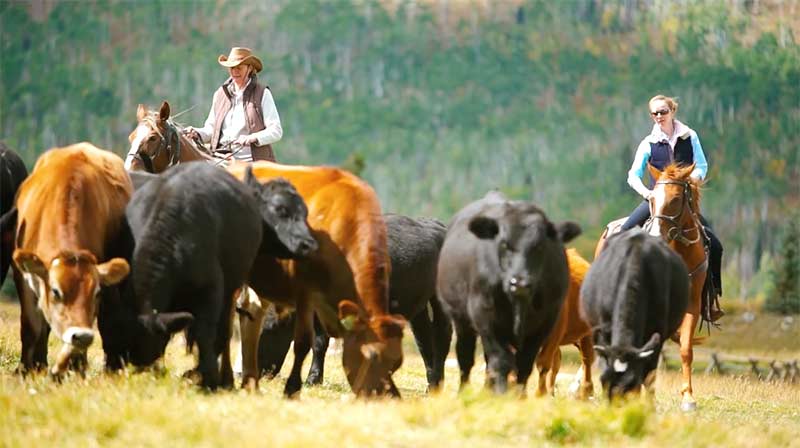 Our Winter Horse Program
Another element of our winter program is the horses. Whether you are coming with the focus of diving into our top notch riding program or just want to ride a little to take a break from skiing, we'll get you in the saddle, having fun and learning! Each day we offer a mix of trail ride options along with instructional clinics in our heated Indoor Arena. And what winter vacation in Colorado would be complete without a sleigh ride? Above all it is just amazing to watch the herd interact out in the Winter pasture, and learn about the dynamics of the herd and the care that goes into maintaining a herd of 100 horses.

Trail Rides
Sitting astride one of our horses resplendent in their warm, thick winter coat is also an experience not to be missed. It's a lot different than riding on summertime trails, with the blanket of fresh snow under the horses hooves!
We keep a few trails around the ranch packed down during the winter. Because of the snow, and the colder weather, we keep the rides to a slower pace and only go out for an hour or so. Whether you ride on a warm, sunny day or on a day when the snow is falling gently on you, it's an experience not to be missed!
Horsemanship Clinics and Lessons
For those looking for a more in-depth riding experience, we offer riding in the Indoor arena each day. Here, you'll be able to learn how to communicate better with your horse and improve your riding skills.
The ranch's full-sized and HEATED Indoor Riding Arena is the reason this can all happen at Vista Verde.
The Indoor facilities include stalls, grooming areas and a large tackroom so you can enjoy all aspects of horse care in comfort.

Sleigh Rides
It just wouldn't be right to spend time in a winter wonderland without singing a line or two of "Jingle Bells."  And you can do just that when you head out on our "one horse open sleigh" around the ranch.
Or, if you would like, hop on our big sleigh pulled by our team of draft horses and help the wranglers feed our resident herd of horses each day.
Either way, it's a wonderful winter experience while the horses do all the work.

Quality horses and in-depth instruction
The Vista Verde riding program and has helped our guests far exceed their expectations in regards to how much they can learn in a week. From both demonstrating what our trainers are teaching our young horses to helping you learn how to better communicate with your own horse during one of our many clinics, you might find that you never want to leave the arena because you're having too much fun!