Mountain Biking in Colorado
For a change of pace from four legs to two wheels — Vista Verde offers a variety of mountain biking opportunities.
Our guides have developed a very extensive program that ranges from adventurous single track and technical skills learning to gentle Forest Service road rides. If you're interested in giving biking a try during your stay, there are three directions you can go: Mountain Biking, Biking in the Mountains, or Ranch Cruising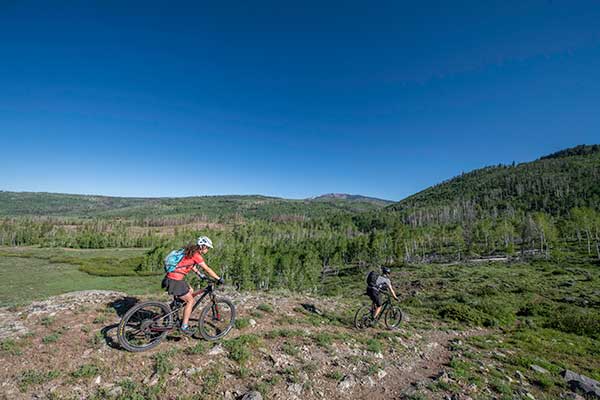 Mountain Biking
Mountain biking is for those who want to learn how to ride a mountain bike in true cross country terrain, or for experienced cyclists who just want to get on a bike and hit the trail for adventure.  On single track trails our guides will help you learn how to make the most of the high end Moots bikes in our fleet. For experienced riders, we'll discover some challenging technical terrain and explore some of the cross country trails surrounding the ranch.
Biking in the Mountains
Biking in the Mountains is for those who prefer a scenic or fitness ride, but do not have any interest in meeting a single track trail or a rock obstacle.  Our guides will take you out on a country road, forest service jeep road, or ride the bike path around Steamboat Lake.
Ranch Cruising
Ranch Cruising puts the cruise into mountain biking.  Hop on one of our single speed cruisers and meander down the road to the river, or even down to the Clark Store for some ice cream.  If you ask nicely, one of us might even come pick you up so you don't have to ride back on a full belly!