We are over-flowing with enthusiasm to introduce to all of you Laura and Chris Jones, and their wonderful family of eight children as the new owners of Vista Verde Ranch.
The Joneses connection to Steamboat began when Laura traveled to Steamboat as a little girl. The visits continued, and now whether it is skiing, riding, hiking, running, rafting, or simply pondering on the beauty of God's spectacular creation, Steamboat is a second home to the Jones family.
The seeds of the idea of a ranch were planted about 10 years ago on one of the family's many trips to the mountains. However, it wasn't the right time and place until about two years ago when the Joneses visits to the Steamboat area became more and more frequent. As the dream of having something "special" continued to grow it took a unique turn with the possibility of being part of Vista Verde. This past year, the idea slowly got moved from the "dream" list to the "reality" list. After a lot of prayer and hard work to put the plan into place, today Laura and Chris officially take over the reins as ranch owners.
Please join us in welcoming Laura, Chris and their kids to the VVR family. All of us at the ranch are so energized by Laura and Chris's excitement about the ranch that it feels like Santa arrived early this year. They have consistently expressed a commitment to continuing with the mission of the ranch while never losing sight of "betterness." We are all so thankful for the leadership, vision, and support that we had from Peggy and Jerry Throgmartin, and we look forward to the coming years with this amazing family. So here we go!
Onward and upward, Merry Christmas and Happy Holidays to all of you!
Ben, Steph, Charlie, and the VVR crew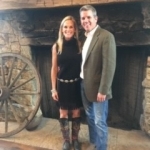 "There are so many things that drew us to Vista Verde. There are countless first class features. The horses, the cabins, the food, and the various facilities are all top notch. However, what stood out to us the most were the people. The people are what makes Vista Verde such a special and a truly unique place. We were completely blown away that something like this could be a possibility. We feel so fortunate and thankful to be a part of this incredible and spectacular place."