Kids, Tweens, and Teens Love Vista Verde Ranch
The kid, tween and teen programs are set up to give each age group an experience tailored to their maturity level.  Roughly based around the US school breakdown of elementary school (K-5), middle school (6-8) and high school (9-12) the age breakdowns for the kids program are 6-10, the tweens are 11-13, and the teens are 14-17.

As you take your first deep sigh of your stay, your kids may have already taken off to explore the ranch.  When was the last time you were able to just let them run free, without concern, like you may have done when you were a kid?  At Vista Verde, kids and parents can relish in a sense of comfort, knowing they are safe and free, all at the same time.
At Vista Verde, the goal of our kids program is to provide a safe and engaging program that lures kids in, but also allows families to take time to enjoy activities together.  Our kids program typically runs from about 9:30-12:00 and then 2:00-4:00 each day, so you can get out on your own adventures.  Breakfast and lunch are always served as a family.  Some evenings our kid wranglers host the Dine and Dash dinner, followed by activities, so you may enjoy a quiet dinner with adult conversation.  And some evenings we all dine together as families.
The kid wranglers at Vista Verde are made up of college age, clean cut young people with strong values. These are the kinds of people who you want to be role models for your kids, and they have a strong impact on many of our young guests, who find themselves crying as they say goodbye at the end of their stay.
What will your kids be doing during the week in the kids program? Among other activities, they start off the week with a riding orientation in order to get to know their horse and acquire a level of comfort in the arena, before heading out on the trail. As we are a ranch, there are many opportunities for the kids to ride, but we also get them to enjoy the West in different ways. From nature scavenger hunts to panning for gold and time at the lake, so many adventures await your little ones.

They aren't really yet teenagers but they are more mature than kids and therefore the Tweens get to have their own program.
Taking the most favorite activities from the kids and teen programs, the tween program is the best of both worlds. A little more independence while still being kept safe and finding fun in every adventure, the tweens get to flex their big kid muscles with more advanced riding options, some more adventurous outings, and just enough cool mixed in with a little bit of childlike fun.
Your tween will explore the trails on horseback, learn more skills in horsemanship clinics, herd cows, paddle board at a nearby lake, have a late-night cookout, and many more adventures!
While teens may be a bit more of a fickle breed, our teen wranglers are about as cool and savvy to drawing them out as you can get. Just like the kid wranglers, these folks are the kind of people you want your teen to look to as role models, and what an important age to have great role models!
While the kids are off on their own adventures, the teens are drawn into a program that mimics many of the adult activities, but tailored more to a teen's mindset. In addition, there are several events that are teen specific, such as the teen overnight camp out, that are designed to develop the friendships that form among the teens and the teen wranglers. Always under the watchful eye of the teen wranglers, the teens get to explore their Western vacation without technology following them every step of the way. And, they find out that it's ok to be unplugged!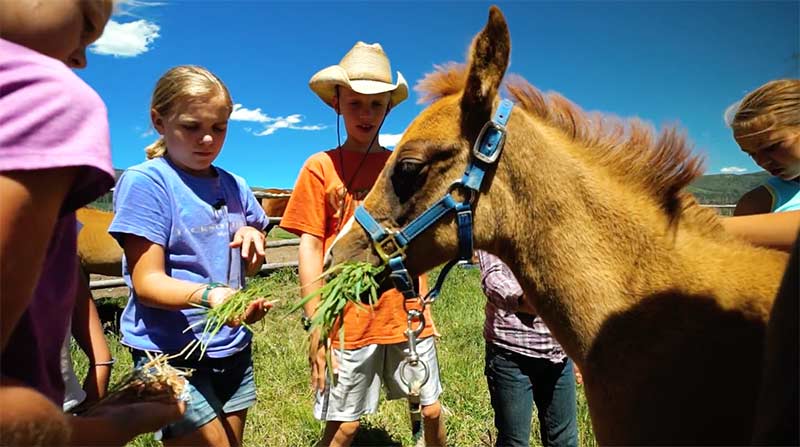 Our Winter Kids Program
Kids are like puppies in the snow. They jump in it, the roll in it, they eat it, and they seem to never get cold!
A family snow vacation at Vista Verde means quality time together, sharing new experiences, creating memories, but also some time for Mom and Dad to relax and recharge on their own. The engaging kids program is for children 6-12 years old, and we will wear them out! From tubing to riding horses to snow shoeing to just playing in the snow: we get them outside and keep them going all day long.
Each day brings a new adventure for the kids, and after having breakfast with you, they can run on over to the Kids Hut to meet up with the Kid Wranglers for the morning. After a fun-filled morning they will meet up with you again for lunch, and then off they go again until later in the afternoon. Although we do encourage families to participate in activities together, we know the allure of the fun to be had with the other kids is a strong pull. But, what a great problem to have!
Some evenings are together as a family with casual meals and evening programs. On other evenings we have what we call a "formal dinner" for the adults and the Dine 'n Dash dinner for the kids. Parents can enjoy a quiet meal with a nice glass of wine and other adult conversation while the kids have a quicker, more kid-friendly dinner and then head off for a fun activity.
Teens are welcome to join the kids program any day, and for any of the Dine 'n Dash meals. There is not a formal teen program during the winter months, but we invite them into the fun, whether with the adults or the kids.