We continually try to offer new programs to keep the Vista Verde vacation experience fresh, especially for our returning guests. Changing things up also keeps it fun for all of us in the kitchen. We hope you will enjoy getting involved with our wine tasting or cooking classes.  — Chef Jonathon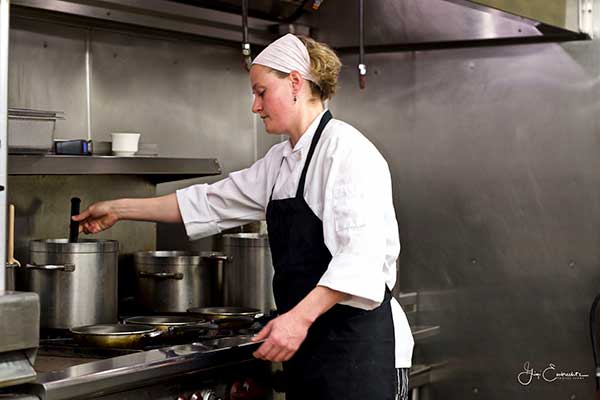 Cooking Class
Have you ever wanted to learn the secrets of naturally-leavened artisan bread baking for the home cook?  Or want to help create something for tonight's formal dinner?  Or, just get a tour of our kitchen and see how we do things in the "back of the house"?   Well, then, our cooking class is for you! One of our chefs leads this class each week throughout the season and they try to make it interesting for those who think they can't boil water, and those who think they can; those who get down and dirty in the kitchen, and those who want to watch.
The weekly cooking class is a great time for the chefs to get a chance to meet some of you, and have some fun sharing their passion.
Regardless of what we are preparing, we have fun sharing ideas and talking about the thing chefs love most- food! We do limit the size since, as you know, there can only be so many cooks in the kitchen!
Wine Tasting
A love of wine is a lot like a love of horses. You will never be an expert, because there is always more to learn.
One of our chefs host a wine tasting each week during the winter and summer seasons and they enjoy getting both novices and total wine geeks attending.
You'll learn techniques for evaluating wine including developing a more extensive wine vocabulary so you can put your sensory impression into words. The wines tasted are an eclectic variety, from the basic, to the adventurous.
As with any learning experience, the teacher and the students can learn from each other, and we look forward to learning more about wines together with you. Join our chefs to raise a glass to the wonderful world of wines!
Beer Tasting – Winter Only
We add this great tasting option during the winter months only, when it can be appealing to be cozy and warm inside after a morning of adventure in the snow.
Our winter beer tasting is a great opportunity to try craft beers and explore the process of what it takes to make a great tasting beer.  You will also learn more about the different styles, unique producers, and even explore the history of brewing beer.
Plus, you get to nibble on the amazing homemade pretzels as you sample the beer varieties.  Brost!