Archive for January, 2014
Date: January 31st, 2014
A Dude Ranch Valentine
January 28, 2014
For many couples, February 14th is a special day set aside to rekindle the spark of romance that flames a relationship. Whether a new couple, or long time soul mates, a romantic get away at a dude ranch can without a doubt be a memorable experience whereby you ignite not only campfire flames, but a passion for the life you share together.
There are several things to consider when selecting which dude ranch would be your perfect, romantic winter destination. With an abundance of options for accommodation styles, activity levels and particular interests you may have as a couple, you will need to do some research when planning.  Read more….
Posted in Vista Verde in the News | Comments (0)
Date: January 31st, 2014
JAN 2014  |  BY ANDREA GUTHMANN  
5 Destinations for a Last-Minute Ski Getaway
The Polar Vortex may be gone, but we are still in the thick of winter. Why complain about the weather when you can enjoy it?
Take advantage of the cold and snow by making tracks for a ski resort. Here's a look at a few favorites, near and far, to fit every budget.  Read more…..
Posted in Vista Verde in the News | Comments (0)
Date: January 28th, 2014
By Malori
Before I came to work at Vista Verde, I cringed at the mere thought of winter. The most common response I receive when I say that is, "Um, aren't you from Colorado?" Yes. I am a Colorado native and I hate winter. Well, used to hate winter. Thanks to VVR, I may actually be warming up to winter – just a little.
I guess in some ways you can blame my distaste for winter on my gene pool. I generally blame all my "glitches" on my gene pool. My mom is a long time hater of wind, snow, ice and everything cold. Naturally, like her, I got cold easily which makes being out in the cold an unpleasant and usually brief experience. I went downhill skiing at least twice a year when I was younger, but I just never could get past the icy chill the trips up the lift left me with.
It wasn't until I was introduced to back country skiing, snowshoeing, snow biking, and skate skiing that I decided: maybe winter isn't so bad after all. All those activities actually keep me warm enough to stay outside, and in doing that, have open my eyes to how beautiful and fun winter is! Navigating through a silent snow covered forest is a magical experience – and riding a bike on snow, who would have thought!? Now, I find myself looking forward to the change of seasons and even feel a tinge of excitement when I see those snowflakes falling. I guess all I can say is, if you think you hate winter, give it another chance, coming from the CO girl who used to hate winter.
Posted in Uncategorized | Comments (0)
Date: January 27th, 2014
How to have more fun in the snow
When was the last time you made a snow angel?  When was the last time you took some time to have fun in the snow, not just shovel it or grumble about it ?
Don't  do snow sports?  No problem. There are as many ways to have fun in the snow off the slopes as on.  We've compiled an entire list at Taking the Kids. Here are some ideas.
Ride, 'Em Cowboy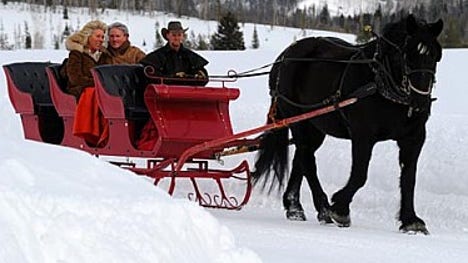 The winter is particularly special time of the year to experience everything 
a dude ranch
  has to offer.  And they're located in some of the most spectacular areas of the country, from Colorado to Wyoming to the Southwest.  Think snow-covered sleigh rides, tubing, hot chocolate (and wine) by the fire.  Check out 
Vista Verde  Ranch
 in Steamboat Springs, Colo. 
Posted in Vista Verde in the News | Comments (0)
Date: January 27th, 2014
The Ten Best All Inclusive Honeymoon Resorts in the USA
Finding the perfect, most romantic, all inclusive honeymoon resort doesn't necessarily mean that you have to rush out and get a passport in order to honeymoon abroad. In fact, there are many beautiful honeymoon resorts located right here in the United States. Below is a list of our top ten picks for the best, all inclusive honeymoon resorts in the USA.  Read on….
Posted in Vista Verde in the News | Comments (0)
Date: January 23rd, 2014
Glide Your Way to Romance – Getaways for XC Skiers or Snowshoers!
By Roger Lohr
It has been said that cross country skiing and snowshoeing are some of the most romantic forms of recreation and Valentine's Day is coming. So get away with your loved one to a winter wonderland of memories for some outdoor recreation and pampering that you deserve. The XCSkiResorts.com Top 10 features favorite romantic XC ski resorts across North America (in alphabetical order).  Read on….
Posted in Vista Verde in the News | Comments (0)
Date: January 17th, 2014
Top Dude Ranches for Corporate Retreats & Team Building
January 11, 2014
Dude ranches are a great setting for corporate retreats, meetings and team building, whether you're a small business, group of executives or larger corporation. Different ranches focus on varied activities to help colleagues excel as leaders and gel as workmates, ranging from the equestrian–– team penning, horseback riding, horse communication sessions and cattle drives–– to non-horsey outdoor adventures–– ropes courses, fishing, yoga, and survival skills.  Read more at Equitrekking.com.
Posted in Vista Verde in the News | Comments (0)
Date: January 8th, 2014
By Steph
On Saturday, January 11 we will be welcoming into the ranch our local friends from the Steamboat Springs area for a day of fun at the ranch.  We're hoping to get a good crowd to come out and play our trails, indulge in some great food and enjoy the ranch for the day.
The trails will be groomed for skiing, the snowshoe trails packed, and the sleigh ready for sleigh rides.  The chefs will have a mouth-watering lunch waiting in the Lodge for hungry skiers.  Brock from Orange Peel Bikes will have snow bikes for folks to try out.  Devyn (and maybe others?) will be singing and playing music in the Great room after lunch.
If you are in the area, come on over and join us for a fun day at Vista Verde!  $45/adult and $25/child 12 & under.  Reservations are required so please call 970-879-3858 or email reservations@vistaverde.com to book your spot.
Posted in This week at the Ranch | Comments (0)
Date: January 7th, 2014
Yep, kale is all the rage right now.  It's one of the most talked about super foods, and everywhere you turn someone is trying to make it appeal to the masses one way or another.    Although kale does not do it for everyone, this salad has a really good shot at turning even the biggest critic into a mild fan.  After being asked for the recipe almost daily by our winter holiday guests, Chef Cholly figured it might be time to make the recipe a bit more publicly accessible.  It's easy and it's healthy, so we hope you'll try it and like it!
Kale Salad (Serves 4)
Ingredients:
2 Bunches of Lacinata kale, stemmed & thinly shredded
1 Gala apple, thinly sliced
½ cup toasted and salted whole almonds
½ cup grated Parmesan
4 ounces fresh lemon juice
12 ounces pure olive oil
Salt and pepper to taste
Method
Combine lemon juice, olive oil, salt and pepper in a container with a top.  Shake the vinaigrette in the container and use it immediately. If you are stirring up with a spoon or ladle you will get more oil than juice.
Place all ingredients in a large bowl, toss, season to taste, toss again, refrigerate until ready to use.
Note
If you prefer a more acidic vinaigrette, then change the ratio of lemon juice to oil to 4 ounces juice and 8 ounces olive oil.
Posted in Recipes | Comments (0)