Archive for October, 2013
Date: October 30th, 2013
By Bill Vanderford
Vista Verde Ranch is the best of the west
The cow all the guests at the Vista Verde Ranch had named "Diabolical" had his vicious-looking eyes piercing into mine as he made an instant pirouette, but my anticipation was way ahead of him! Even before his athletic move, I had jerked my horse Gunnar's head in the right direction and slapped him with the reins to cut off the bad cow. That turned him back toward one of the best cowboys in the West … Terry Wegener, where he would have no escape!
Terry and I had cut this bad boy out of a herd of Texas cows to teach him a lesson and make him behave. We ran him to the middle of a corral about the size of a football field with Terry and his prize horse, Gun Shy Gangster (better known as Gunny) on one side and me and Gunnar on the other. In order to wear the cow down, we cut him off at every angle to keep him between us until his tongue was hanging out. In retrospect, I labeled our efforts … Cow Soccer!
No doubt riding and learning about horses and cows is one of the main reasons that people visit dude ranches in Colorado, but Vista Verde Ranch offers so much more. They truly make an extra effort to let you experience everything that they offer, but will go out of their way to see that all of your other requests are satisfied. Much of the staff is comprised of seasonal young people from all over the country who are checked thoroughly … including a personal visit from General Manager, Ben Martin. Therefore, the youngsters and the permanent staff all have a zest for life, love to engage with guests in conversation or ranch experiences, and have the best attitudes I have ever seen in all my days of traveling the world!
Though I have ridden horses off and on since my childhood, I learned more about them during my week at Vista Verde than I could have imagined. Just being around Terry Wegener is an education in the mannerisms and psychology of horses. He and his wife are also involved in the training and riding of the Denver Broncos horse Thunder at the football games.
The horse program at Vista Verde Ranch is top of the line when compared to any other in the West … partly because of the very large heated indoor riding area. This venue allows Terry and other trainers like Annie Bolognino from Montana and Nicky Throgmartin    from Indiana to work with the younger horses and give special Horsemanship Clinics for guests regardless of the weather.
The Mare Barn also gives the breeding stock a quiet place away from the central ranch to deliver and raise the foals. Though Terry is in charge of the breeding and horse sales, Annie and Nicky primarily work with the younger horses and share this experience with guests of the ranch. Because Vista Verde Ranch is located in the National Forest and has access to the wild and beautiful Mt. Zirkel Wilderness Area, horseback riding and hiking trails are numerous, adventuresome and breathtaking! You can even ride your horse to a hidden sanctuary among colorful Aspen trees to partake in Wild Yoga with expert instructor Kelli King.
I found the fly fishing and guides at the ranch to be knowledgeable, personable and quite talented in the numerous waters available to anglers visiting Vista Verde. The possibilities range from small creeks to rivers to still water lakes and from very simple fishing to extremely difficult. Rainbow, Cutthroat, Brook and Brown Trout are always possible catches as well as Mountain Whitefish and Grayling.
A true hero from the US Army's Special Forces, Brandon Martin, is the Director of the Fly Fishing Program and a pleasure to be with anytime. His expert fly fishing partner in the program is Bubba Veteto from Colorado who loves to hang out with the chefs in the kitchen when he's not guiding guests.
It would take a book to relate all there is to see and enjoy at Vista Verde Ranch near the famous ski resort village of Steamboat Springs, CO. One of the most important things to know is that any visit to this ranch is All-Inclusive … and they live by that even to the point of free pick up and delivery to the airport that is nearly an hours drive from the ranch.
The Lodge and Cabin rooms are authentic log structures with all the comforts seen in other fine resorts with one exception … no TVs in the rooms. The diverse cuisine created by top chefs can range from simple barbecue to intricate gourmet meals with many different wines. Summer activities include numerous horse-related opportunities, barn dancing, fly or spin fishing, mountain biking, hiking, yoga, cooking classes, wine tasting classes, rock climbing, rafting, local shopping tours, and photography just to name a few.
There's probably not a bad time of year to visit Vista Verde Ranch, but I feel that I hit it at the most opportune moment for the best photography in the early fall. At the beginning of the week, the weather was like summer with midday temperatures reaching into the high 60s and falling to the 40s at night. Soon the mercury began to fall, and all the bright gold Aspen trees changed in two days. During the last part of the week, we were blessed with a blanket of more than a foot of powdery snow. It was the perfect time to experience the gorgeous metamorphosis that occurs annually in the mountains and valleys of Northwestern Colorado.
In my opinion and that of other guests, this is the best, most diverse, and client friendly working ranch in the Western USA. However, it is very busy throughout the year, so reservations in advance are necessary for couples or families. For more information or bookings, go to the Vista Verde website (www.vistaverde.com) or call them toll-free at: 800-526-7433.
Just one week in the early fall was a revelation to me of this part of Colorado and gave me a taste of summer, fall and winter on a ranch. Now, my dream is to return one day to experience the winter ski season when the ranch is all decked out for a Cowboy Christmas.
Posted in Vista Verde in the News | Comments (0)
Date: October 30th, 2013
By Annie
Please note that this is an informational blog post, not an instruction piece intended as a how-to in training a horse.
Every safe trail riding horse needs to be "bomb proof."  But what does that actually mean?  The goal of Vista Verde's dude ranch breeding and training program is to breed high quality performance horses that are not only phenomenal in reining and cow work but  also enjoyable on a trail ride.  Teaching our horses to be safe and well mannered starts with teaching them to expect the unexpected.  A great horse helps makes a great vacation, after all!
Preparation is key when teaching youngsters.  There are several methods we use in starting our young yearlings and 2 year olds to begin to learn how to be handled, saddled and eventually ridden.  One of the tools we like to use when introducing young horses to be ridden for the first time is an old sack or grain bag tied to a 50-foot rope.  This is a method of desensitizing young horses to their first time carrying something behind their eyes, where eventually a person will end up sitting in the saddle.  Other key preparation training has already taken place to set this young horse up for being able to handle this stage.
When starting a horse to carry this noisy little bag, we make sure that our flag training, ground cues to go forward, stop, reverse and turn are already solid in the colt.  We have already worked over this horse's back from the fence, so he has been able to see things going on behind his vision and has shown progress in switching eyes, as objects (flag, pad, saddle, arm, leg, chaps etc) start on one side and end up across his back on the other.
Step 1: Let Him Be Curious
It is important to play off a horse's natural curiosity and desire to play!  Allowing them to be curious builds confidence to check things out and inspect new things rather than shying away from them. We want to develop their "thinking mind" instead of having them getting worried and letting their protective prey instincts take charge.  Allowing the colts to follow anything out in front of and below their eyes is the best way to introduce anything new.  It is a non-confrontational way to help them to inspect and accept.  Being able to pick up and play with the object means the colt is ready and more comfortable with the bag.  We will walk around dragging the bag behind us but out in front of the colt so he can clearly see it.
Step 2: Tossing around field of vision
Being able to toss the noisy bag in all areas and not have the movement startle the horse is the goal.  This teaches them to accept commotion: people, wildlife, and activity going on unexpectedly around them.  It also helps them become used to things happening behind them without those actions being cues to move or go forward.  Riders taking off gear, jackets, hats etc is often a cause of discomfort for horses, and their reactions are sometimes seen as unexpected by riders.  Once they are comfortable here, it lets us know that it's now time to start touching the colt with the bag and rope.
Step 3: Touch all over
Most importantly, all horses should be desensitized to having things running between their legs (dogs, children, ropes) because at some point in their lives it is bound to happen.  In the images you can see how I will purposefully swing the bag beneath the colt's belly then drag it towards me and the colt from the opposite side.  Again, this engages their "thinking brain" and teaches them not to react.  This builds confidence between the horse and human as well.  At this stage they start to check in more often and almost seem to ask a question like, "Is this something you want me to do something about?"  Then you know you're teaching the lessons that will build an excellent student to learn some pretty important things someday.
Step 4: Bag goes for a ride!
There are times when a sudden movement from a horse will send a rider off balance.  If the worst case happens and a rider were to fall off, it's important that the horse be prepared to have things be where they aren't expected.  This can help prevent a bad accident from getting worse.  Obviously this is serious business.  If a horse has been taught from the beginning to expect the unexpected, the odds are better that the horse will quiet and wait for help and check in, instead of letting their natural instincts of flight take over.
So we work this noisy bag all over the colts, ask them to walk, trot and lope with it.  Let it drag around behind them, let it bounce annoyingly at their sides while they are moving out.  Their response at that time will tell us just how bothered they are feeling.  Sometimes they will scoot at the sudden recognition that something is there and they cant seem to get free from it, but with proper preparation beforehand, it is sometimes just a little scoot and then they even out.  This will tell us what their response might be like for the first time it's one of us up there instead of the bag going for a ride!
Posted in Ranch Info | Comments (0)
Date: October 29th, 2013
Looking to do something different to ring in the New Year? Get out of the city and experience the Western, the exotic and the fun traditions at ranches and horseback riding destinations that offer celebrations on New Year's Eve.
From Mexico to Colorado and Israel to Arizona, we've compiled some interesting and enticing getaways for a memorable New Year's celebration. These dude ranch and riding vacation owners have organized special experiences for New Year's Eve, so you can enjoy the cultural traditions of each area and go horseback riding, too.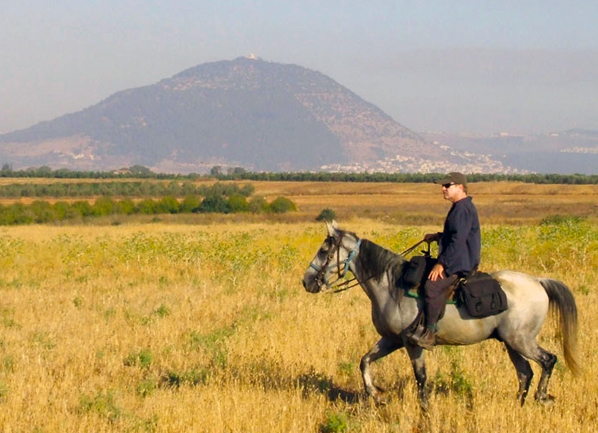 Riding at Mt. Tabor in Israel with Sirin Riders, who is offering a special trip over New Year's.
#1 New Year's Travel Pick–– Vista Verde Ranch, Colorado
Vista Verde Ranch, a luxury guest ranch in Clark, has a grand New Year's celebration. It starts with a wine pairing dinner for the adults, during which the kids and teens go down to the indoor arena for a mini-carnival type party, including pizza, games and more. Then the families meet up after dinner for a Cowboy New Years. Ranch staff clear out the furniture in the great room, decorate the place like it's going out of style and then host a barn dance with the families and staff. The ranch has fun activities going on over on the sidelines in between dancing and socializing.
In fine rancher style, early to bed and early to rise, Vista Verde Ranch rings in the New Year with the folks on the East Coast (so it's only 10pm Colorado time) with the one and only Vista Verde Boot Drop and firework show. Ending the night a bit early makes it doable for the kids and allows everyone to get some rest as they hit it hard with the outdoor adventures the very next morning. This year the ranch will hold the Vista Verde Ranch Arena Bowl on New Year's Day. Guests have been told to don grubby clothes for a game of touch football and some good times in the indoor arena. There are only two cabins remaining for New Years at the ranch!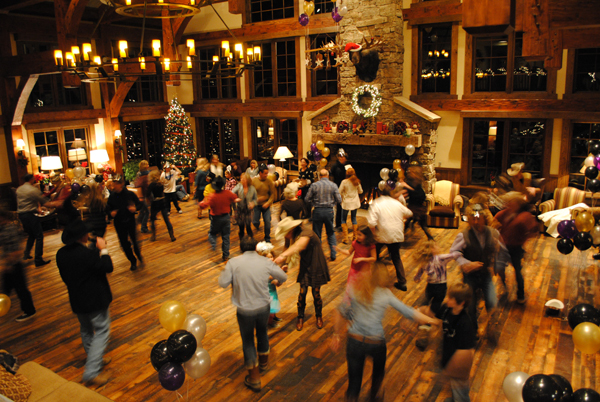 #2 New Year's Travel Pick–– Rancho Las Cascadas, Mexico
Add some Mexican flair to your New Year's Eve at this boutique Mexico guest ranch, which has only one room left. At Rancho Las Cascadas, guests enjoy a traditional Mexican New Year, including fireworks, a family dinner, sparkling wine, music, ringing bells and more. You'll experience unique traditions at this festive New Year ranch celebration. For example, lentils are spread around the door as a symbol of abundance, meant to drive anything bad from the previous year out of the home. The ranch also offers unlimited horseback riding–– not nose to tail–– on Mexico's open range on 500,000 acres and through beautiful countryside.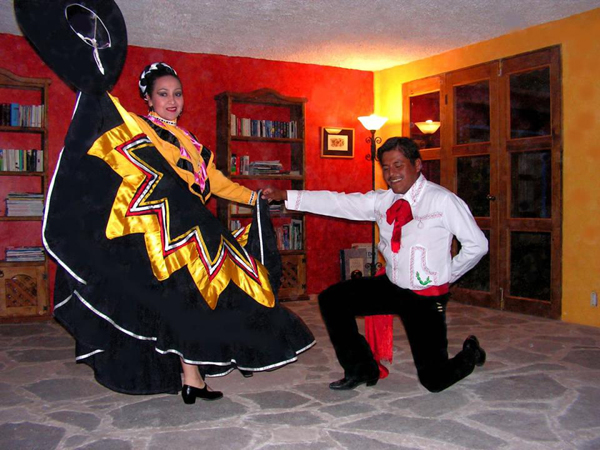 #3 New Year's Travel Pick–– C Lazy U Ranch, Colorado 
At this Granby, Colorado guest ranch, which has been operating since 1919, guests ring in the New Year at a traditional western-swing dance or during a torch-lit ice skating or a moonlight cross-country ski tour. The midnight countdown includes a live band. The ranch also offers a variety of outdoor activities to enjoy the snow. C Lazy U has shuttles that will take you to Granby Ranch Ski Resort and Winter Park Ski Resorts. You can sled down the C Lazy U Luge or play hockey on the frozen pond. There is horseback riding in the morning and afternoon, and in the heated indoor arena, as well as a hot tub for soaking after time on the trails.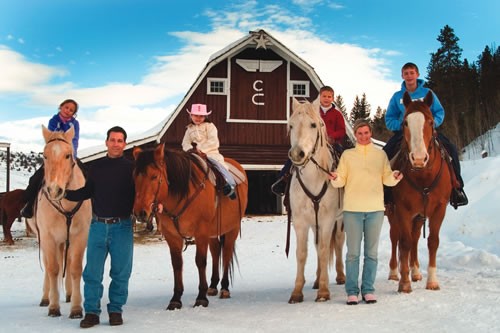 #4 New Year's Travel Pick––
Elkhorn Ranch, Arizona
Celebrating New Year's Eve at Elkhorn Ranch, fifty miles southwest of Tucson in the Sonoran Desert, is a family affair. Kids are welcomed to the ranch's special New Year's Eve party, where the piñata is always a hit for the little ones. The ranch also has a midday feast on New Years Day. Guests can play outdoors in the Arizona sun, horseback riding in the picturesque Baboquivari Mountains and the open Sonoran desert country of the Altar Valley.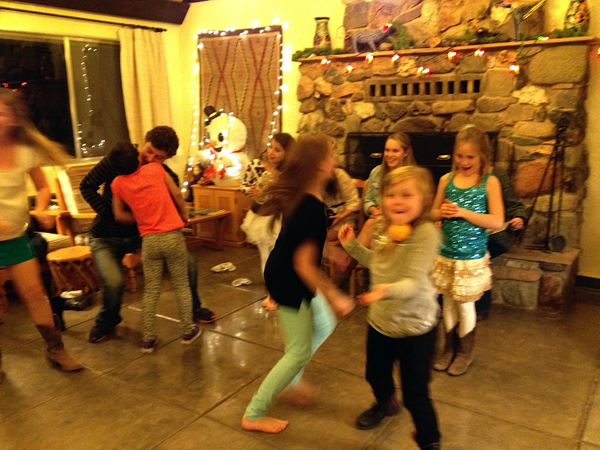 #5 New Year's Travel Pick––
Sundance Trail Guest Ranch, Colorado 
Sundance Trail Guest Ranch in North Central Colorado offers a quirky December 31st New Year's Eve Murder Mystery Party. During the "all evening" affair, which starts with appetizers before dinner, guests untangle each others' half-truths, evasions and hijinks. The murder mystery game is solved prior to midnight and includes Champagne toast as 2014 commences. The New Year's extravaganza also includes a morning brunch and morning or early afternoon horseback ride.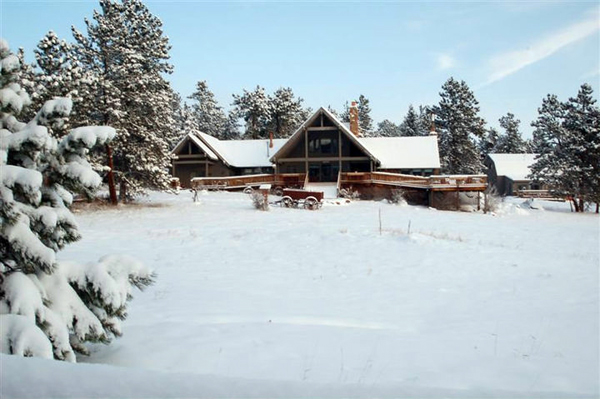 #6 New Year's Travel Pick–– Sirin Riders, Israel
Sirin Riders, which offers all-inclusive equestrian vacations on Quarter horses and Appaloosas in Israel, has a 9 day, 8 night horseback riding vacation departing December 28th, 2013. The Tour Israel horseback riding vacation starts at the north of Israel in Galilee and ends in the Judea Desert. It includes a special excursion to swim in the Dead Sea at the end of the ride. Guests stay in country lodges, get one night camping in the desert and one night in a hotel in Tel Aviv, making for a diverse New Years holiday vacation.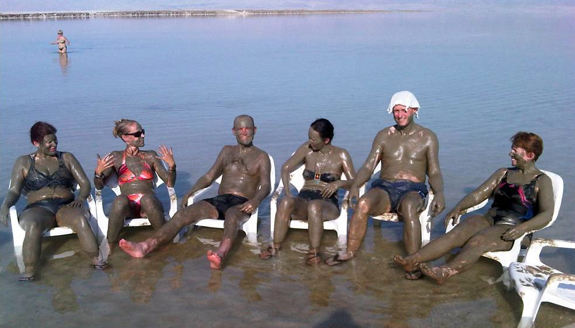 Posted in Vista Verde in the News | Comments (0)
Date: October 28th, 2013
By Steph
Imagine waking up in a warm bed at Vista Verde Ranch on Valentine's Day morning.  Your sweetheart is next to you, bundled up under a cozy comforter, still snoozing.  You look outside and see snow lightly falling on the trees.  What to do today?
An early morning dip in the hot tub as you watch the horses start moving around for the day.  Following a hearty breakfast in bed you are heading out on a snow shoe tour with one of the ski guides.  Or, maybe you decided to work on your horsemanship skills with one of the wranglers in the indoor arena?  Don't forget, you also have a sleigh ride for two planned in the afternoon after some quality time wooing your honey on the sledding hill.  Nothing speaks romance like screaming down the sledding hill, hand in hand.
Of course, the highlight of the day is the ever popular Aphrodisiac dinner prepared by Cholly, John and the chef crew.  Creative cuisine paired with wonderful wines, and then later in the evening…..that's completely up to you.
Intrigued?  Learn more about our winter vacation packages and plan your romantic Valentine's Day getaway now.
Posted in Ranch Info | Comments (0)
Date: October 28th, 2013
By Steph
Last Friday the kids from the North Routt Charter School loaded up their bikes into large horse trailers and headed to Vista Verde for a day of biking and fun times at the ranch.  Luckily the weather was gorgeous and sunny, so the kids had a hay day goofing off on their bikes all around the ranch.  Some went out on the single track trails, some headed to the bike skills park and some of the little ones just puttered around on the dirt roads.
Steve and Kelli played host to the kids by teaching them new skills and encouraging them to have fun on their bikes, no matter what their ability.  The ranch was buzzing with excitement and the sounds of giggling.
After riding, playing and having a picnic lunch, the kids loaded back on their bus, the bikes back into the horse trailers and they headed off to school.  Part of the curriculum for the North Routt Charter School is Expeditionary Learning Outward Bound (ELOB) and Service Learning. For example, student-owned projects enable the students at NRCCS to learn academic subjects while connecting to the people and places in our community. All three of these educational programs encourage our students to use their "place" as a learning resource, incorporating direct learning experiences into core curricular activities.
It was great to be a part of the student's learning and we loved sharing the ranch with them for the day!
Posted in This week at the Ranch | Comments (0)
Date: October 25th, 2013
By Steph
This past summer, I had the pleasure of working on a really exciting project with one of our talented staff.  Maddy O'Neil came to the ranch as a ranch hand for the summer, after visiting the ranch as a guest last winter.  He has a background in illustration and aspirations of creating a children's book.  So, not having planned on putting together a children's book for our Vista Verde friends, I suddenly found myself working with Maddy on putting this concept together in one summer.
Maddy crafted the vision and spent countless nights sitting in the Lodge drawing in his sketchbook.  As he and I met weekly the story came together page by page.  It went from sketch book to computer and now to the printer.  When Maddy revealed the book at our end of season staff party the room was filled with laughter that just wouldn't end….and you will see why soon.  It's a charming story of a sweet moose who is trying to find his place at a little dude ranch in Colorado.
Keep your eye out for the books to go on sale soon, and you can have your own copy of Wille the Moose!
Posted in This week at the Ranch | Comments (0)
Date: October 18th, 2013
By Steph
This year we tried something new for the ranch.  With so much demand for the fall ranch stays in September, we decided to extend our season a couple weeks into October.  It was an experiment to see if we could get guests to come visit us in October– a time when the chance of weather is a bit higher, but also a time that can be one of the most stunning months of the year.
Success!  Or, at least by our count it was a great success.  We had a really nice number of guests who came to try out this new season.  Many of them got two seasons for the price of one, as guest Traci told me with a laugh.  We had days of blue skies, warm sunshine and a forest full of golden aspens.  And then we had snow–magical, fluffy, amazing snow like nothing we've seen in October before.  As you can see from this photo, we didn't let the weather stop us, and the contrast of the snow with the golden aspens was off the charts.  Many of the guests came for our standard week-long stay, but some tried out the shorter stays we were offering during these two weeks.
Will we do it again?  Absolutely!  It was a great time to celebrate the transition of the seasons, enjoy cozy-ing up to the fire each evening and share this time of year with some wonderful people.
Now the ranch is closed until mid-December.  It's a time for gathering up as a team and hashing out what worked and what didn't, what we want to change for next year, and what we want to keep the same.  The bikes are being put away and the skis hung up on the racks.  The saddles are getting cleaned and oiled.  Horses are getting some extra training and projects are getting checked off the list.  The scaffolding is up in the Great room for dusting those magnificent beams and changing those very hard to reach light bulbs.   Through all this we're still answering the phones and emails and getting folks booked for this winter and next summer.  We thank everyone who made this past summer and fall so amazing, and look forward to playing with those of you who are planning your winter stays soon!
Posted in This week at the Ranch | Comments (0)
Date: October 14th, 2013
10 Great Dude Ranches for Advanced Horseback Riding, Lopes & Gallops
September 30, 2013
Dude ranches are synonymous with horseback riding, but many experienced horseback riders want to know about ranches where they don't have to ride "nose-to-tail" and can perhaps lope (canter) and even gallop. Whether you're an English rider, dressage enthusiast or cutting horse queen, there are a variety of dude ranches where you can find challenging horseback riding on quality horses.
Check out the below 10 great dude ranches for advanced horseback riding. Have a place you've been you'd recommend, please let us know your suggestions!
Riding fast at Ranch las Cascadas in Mexico.
1.
Rancho Las Cascadas in San Agustin Buenavista, Mexico
This boutique central Mexican ranch, located on a mountain plateau, has flat fields and quiet unpaved roads that are excellent for gallops for confident riders. Read a traveler's review of riding here.
2. Geronimo Trail Guest Ranch in Winston, New Mexico
This New Mexico guest ranch does not require you to stay in a line "nose to tail" and does offer trotting and loping for capable riders where the terrain allows. They also offer games on horseback at all gaits and can accommodate all ages and levels of riding skills.
3. Drowsy Water Ranch in Granby, Colorado
This Colorado guest ranch has over 100 head of horses and horseback riding is their primary activity. Advanced riders have many opportunities to explore and blaze trails while handling their horses from leisurely walks to smooth lopes and gallops.
4. Southern Cross Guest Ranch in Madison, Georgia
This ranch is unique in that it's located in Georgia, but also in that it allows unguided riding for qualified guests, meaning you can take a horse out on your own. Small guided groups are always available. You'll be encouraged to groom and help tack the horses for a true hands-on and bonding experience. Riders may trot and canter either guided or unguided while here– conditions permitting, of course.
5. Vista Verde Ranch in Steamboat Springs, Colorado
This horse lovers' luxury dude ranch offers adventurous trail rides in small groups that accommodate all riding levels. There are plenty of opportunities for more advanced trails and faster horse riding. They also have a beautiful outdoor arena and for winter, a full-sized and heated indoor riding arena. Ranch Trainer Terry Wegener, a NRHA Money winner, has a background in reining and ranch versatility horse training, competition and judging. Horsemanship clinics include basic horsemanship and more focused cattle work clinics. For a more intensive riding experience, join the fall cattle round-up, which takes riders into the National Forest.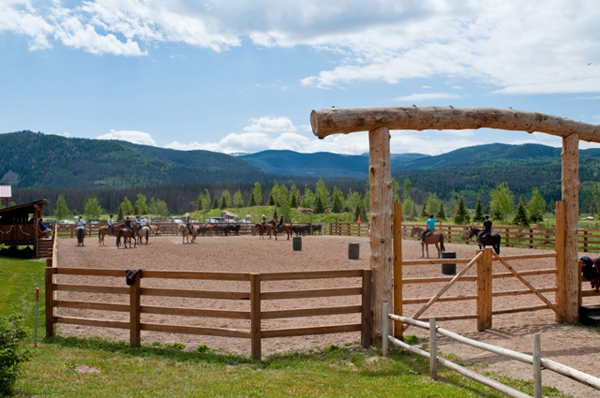 The outdoor riding arena at Vista Verde Ranch in Colorado.
6. The Hideout Lodge & Ranch in Shell, Wyoming 
This Wyoming working cattle ranch is great for experienced riders who want a bigger working ranch experience amid a small number of guests and no "nose to tail" riding. Advanced riders will experience high end horses and instruction with experienced wranglers, charro's, cowboys and cowgirls. Guests may be able to lope during the intermediate and advanced rides, where the terrain allows.
7. Tanque Verde Ranch in Tucson, Arizona
Guests who pass the lope test can ride fast when the desert trails allow at Tanque Verde Guest Ranch, which has some challenging desert terrain. Watch out for those cacti! The special Harmony with Horses program works with riders to develop extensive horsemanship skills and better self understanding through horses.
8. Bar W Guest Ranch in Whitefish, Montana
In addition to the exciting and challenging ranch sorting and team penning in the arenas, guests are challenged during a rodeo with barrel racing, pole bending, stake race, and the keyhole race. While you'll frequently be climbing on mountain trails at a slower pace, the meadows and pastures allow for more aggressive, faster ride with loping through more open country.
9. White Stallion Ranch in Tucson, Arizona
Experienced riders may enjoy loping/ cantering through the desert on adventurous fast rides at this longtime Arizona dude ranch. Rides range from fast to slow and include options for all day rides, mountain terrain and, back at the ranch, team penning.
10. Hideout Ranch in Rodeo, New Mexico
This is a true riding ranch. Guests ride over a million acres over three mountain ranges. Each trail is unique in both scenery and challenge, with some trails climbing to eight and nine thousand feet elevation. There are areas on many of our trails where the urge to lope is too strong to resist – particularly the Parade Grounds at Rucker. Guests are welcome to join ranch owners and wranglers when they work cattle, which presents an entirely new skill set. Since riding is the focus, Hideout Ranch offer lessons both in the Round Pen and out on the trail. Longtime horse owners often visit this ranch and they too learn something new.
Posted in Vista Verde in the News | Comments (0)
Date: October 14th, 2013
Travel and Adventure: Colorado dude ranch combines activities, serenity – Metrowest Daily News
By Lesley Sauls
From a pre-dawn hot tub on a sheltered deck I could hear the squeak of horses' hooves in the snowy pasture next to my cozy log cabin. Gentle nickering and snorts were their way of welcoming me to this winter wonderland's hushed corner, and above us a meteor streaked across the twinkling sky. It was the beginning of my first day on an operating dude ranch in northern Colorado.
Vista Verde Ranch was founded in the 1930s and remains home to more than 70 horses that are used by guests, ranch hands and breeders. After my morning soak, I joined some of the staff and other guests for breakfast in the main lodge, a massive timber-frame structure that houses a fireplace big enough to stand in, to learn what my day would entail.
When I had arrived at the ranch the previous evening in search of some much-needed solitude for a long weekend, I walked into what is known here as Happy Half. For a half-hour prior to the evening meal wine and gourmet appetizers are served to guests who mingle and chat with well-informed staff members about what activities they would like to try the following day.
I had mentioned an interest in taking a trail ride, and the ranch's general manager suggested I might first enjoy a riding lesson with one of the veteran wranglers. I was reluctant, having been on horses sporadically throughout my life. I'd hoped instead for the thrill of a snowy trail ride, but his sun-browned and smile-creased face coaxed me into accepting.
Thus my first day began with a horsemanship clinic that I had expected would be mostly review. I was delighted to find that I learned more in those two hours than I'd ever known about horses. I was soon walking and jogging on my mount with more focus and dexterity than I'd ever experienced. The time flew, and then it was time to climb onto a horse-drawn sled with another wrangler to deliver hay to the horses that had greeted the day with me.
They were eager for their meal, and a few bold steeds chomped into hay bales to pull them right off the sled. Others were more patient and waited for us to pause and toss their dinner to them. We rocked and bumped slowly around the pasture and back to the barn when our load was gone.
Lunch at the ranch was a social affair for guests and some of the resident dude string and students who come to this remote area for summer or winter jobs. There I met the Ohio Group, a cross-country ski club who have made this ranch their annual gathering place. These mostly retired athletes energetically explained the difference between skate, classic and telemark skiing, all of which are available at Vista Verde, so I was ready when my afternoon activity began — backcountry and telemark skiing.
My patient guide, Brandon, took his time to fit me into proper bindings and snow gators over snug boots at the ranch's well-stocked Nordic center. We drove down the road and across the Elk River, where he pointed out Mount Zirkel, a visible landmark at the Continental Divide, and Hahn's Peak, another nearby mountain.
The ranch sits between these peaks in the Routt National Forest, and its guides trek with guests daily into the 3 million acres of wilderness on snowshoes and skis.
My adventure began with simple moves to learn how backcountry skis function with their grippy bottoms and wide footprints, and in time I was telemarking down pine-filled slopes between frozen cascading beaver ponds covered with fluffy snow that made a soft landing for my not-so-skilled tumbles. We proclaimed ourselves on a moose hunt and successfully found evidence of their recent presence in the area. I couldn't wait to share my stories with the Ohio Group.
When the head ski guide overheard my enthusiasm at Happy Half, he commented about backcountry skiing, "Mother Nature does the grooming, and the same Mother Nature never shows up twice."
Despite my backcountry delight, I couldn't be so close to Steamboat Springs without taking time to downhill, too. So after a second morning of equine snuffles and whinnies heard from the therapeutic hot tub I headed into town with a supply-seeking ranch hand. There I rented skis, picked up a lift ticket and soared into a quintessential Colorado bluebird sky on the Thunderhead Express.
From that point I picked up trails and lifts that took me all over the mountain. Lunch at the Four Points Hut included steamy chowder that warmed me to my chilly toes. A gregarious ski-school class of students from Florida, Alabama, Illinois and Australia invited me to join their group in their search of a bear den and a previously spotted porcupine napping in a pine tree. Not wanting to miss such an opportunity, I joined them on the run that was aptly named, "Why Not?"
Back at the ranch that evening, a pre-dinner steamy soak was necessary therapy for muscles that had been too long away from the kind of exercise they were experiencing this weekend. I only had one more day to enjoy my solitude at the ranch, but I was first in line at Happy Half to sign up for more activities that would take me out into the vast wilderness surrounding me.
"This is the kind of place that makes you redefine space," I overheard one guest say.
In addition to the Ohio Group, I met a newlywed couple and a seasoned wrangler from a neighboring ranch who taught me horse lingo with his equally qualified and delightful wife. I soon sounded almost like a local when I chatted about highline feeding, pack strings, snaffle bits and panniers. Dinner with these newfound comrades-in-snow — grilled steelhead trout with beluga lentils, wild mushrooms, charred scallions and white wine beurre blank — topped off another day in snowy paradise with lip-smacking style.
When I walked into the lodge on my last full ranch day, I found my name on the activities whiteboard next to the much-longed-for trail ride. I also was signed up for a short sleigh ride that included a warm lap blanket and steamy cocoa, a brief spin around the ranch on a fat-tired snow bike and one last backcountry/telemark moose hunt in the woods with Brandon.
It was hard to leave the peaceful ranch where none of the eight cabins has cellular, television or Internet access, and the only way to contact the outside world is through Wi-Fi provided in the lodge. I had been regenerated by the sweat and serenity I found at Vista Verde.
Brandon had said to lean into my discomfort to find my growth when he taught me to telemark. I might have fallen more often than I leaned during my stay, but I left the ranch with a good bit of growth, too.
WHEN YOU GO
Getting there: Multiple airlines serve Yampa Valley Regional Airport in Hayden, Co., a 45-minute drive from Vista Verde Ranch, or you can fly into Denver and rent a car or take a shuttle for the 3.5-hour drive across the Continental Divide.
Where to stay: Vista Verde Ranch offers winter activities primarily for adults but has two weeks of winter family time that include exciting activities for children. Their summer activities are all family-friendly: www.vistaverde.com
Where to downhill: Steamboat Springs at www.steamboat.com
Where to rent: Equipment is provided for ranch activities, but to find downhill equipment for a day on the slopes, go to Steamboat Pro Shop: www.steamboat.com.
Posted in Vista Verde in the News | Comments (0)
Date: October 10th, 2013
By Steph
Often times we see wildlife around the ranch or out on the trails.  You may have seen the crazy moose photo on Facebook last week.  If not, check it out.  This one was a little too close for comfort, but luckily everyone minded their p's and q's and Mr. Moose left without any fuss.  Then there are the wild cows.  They were supposed to be good kids and cooperate with getting rounded up in September.  However, this bunch was so unruly and wild that many of them are still out there in the woods enjoying the bounty of a wet summer and luscious grass.  Of course there have been deer, bald eagles, elk, fox and more other wonderful critters spotted around the ranch.
But, the most laughable "wildlife" story recently was that of Baylee and her little lamb.  One unsuspecting fall day Baylee hopped on her horse with some guests and headed out towards the National Forest for a nice, long ride through the aspens.  What she wasn't expecting was a black sheep to come hunt down her ride, attach herself to the group, and follow them back to the ranch.  No joke, this lamb joined them for a long ride through the mountains before following them back to the ranch.  Upon returning to the ranch, the lamb decided she wanted to join the herd.  However, the horses weren't so sure about that.  The wranglers said they have never seen such a sight as the entire herd going after the lamb like it was some foreign invader.  Baylee's little lamb was rescued out of that mess and put into a pen.  She spent a week or so at the ranch while we tried to find her rightful owner.  No luck there but we were able to find a home for her at a neighbor's small ranch where she is now living with some other farm animals.   So, just remember, you never know what you will run into out in the woods!
Posted in This week at the Ranch | Comments (0)
Date: October 7th, 2013
Meet Oliver.  He is one of our "behind the scenes" ranch dogs at Vista Verde.  Unlike Rosie, who likes to join hikes and ski trips,  and Trooper, who takes part in horsemanship clinics and trail rides, Oliver lays pretty low.  Although behind the scenes, he still has benefited from the great natural dog food that our good friends at the Honest Kitchen provide for our resident ranch dogs.  Oliver belongs to Erica (runs the kids program) and John (chef) and here is his story:
Oliver is no ordinary ranch dog!  He was was discovered at 2 weeks old on a beach off of the gulf of Thailand when Erica was still living and teaching in Bangkok.  After raising him in the busy city of Bangkok, he soon became a beach bum in Florida for a few years.  Once Erica met and married John, and relocated to Colorado, Oliver transitioned into the life of a rocky mountain dog!  Oliver loves life as a ranch dog- he gets to go on long hikes in the beautiful forest, play in the plentiful snow, and chase after those pesky marmots.  While Oliver is always working up an appetite at VVR, he remained a very picky eater.
It wasn't until Honest Kitchen was introduced into his diet that he actually looked forward to his next meal.  He now waits excitedly, wagging his tail, to be served when before he would have to bribed with all sorts of treats on top.  Ollie cannot get enough of Honest Kitchen dog food and I have no doubt that this food will keep him healthy and happy!
Posted in This week at the Ranch | Comments (0)
Date: October 1st, 2013
When Stern Bloom Media partners David Bloom and Michael Stern take a break from the year-round heat of Miami, they pack up their ski gear and go west—this time, to Vista Verde near Steamboat Springs.
When the words "snow", "mountains" and "Colorado" came out of Michael's mouth, I thought, cool, you want to go skiing?  But, when more words came, words like, horses, stables, and dude ranch—a flood of not-so-enticing images flashed through my mind: leathery-skinned cowboys, smelly horses, cold baked beans and freezing our butts off by the campfire in the middle of winter. No thanks!
He argued that this would be an adventure, an opportunity most people would never have. Plus, he added, what if you could enjoy the best of both worlds? What if we go downhill skiing for a few days and then spend a few more days at the dude ranch? He then directed me to some online reviews about this dude ranch (which turned-out not to be a dude ranch at all, but rather a luxury ranch resort) known as Vista Verde, near Steamboat Springs, Colorado.
I spent the next 10 minutes reading the reviews, 100 percent of which were positive. Endorsements such as Trip Advisor's Certificate of Excellence, a Fodor's Choice designation and the AAA Four Diamond Resort award only fueled my enthusiasm and intrigued me further. Vista Verde is an all-inclusive, year-round destination that caters to families, singles, couples, groups and clubs. I went from intrigued to excited in no time, so we switched gears and launched into the planning phase of our trip.
We decided to fly directly into Steamboat Springs' Hayden Yampa Valley Airport (this proved to be a sound decision, because the alternative was to fly into Denver and drive four-plus hours to the property). We would then go straight into Steamboat Springs for a few days of downhill skiing, then head over to Vista Verde for another three days of serious outdoor adventures before returning home (there's a limit to how much independence our loving wives allow us to enjoy at any given time). Once our bags were packed, we headed to Fort Lauderdale-Hollywood International Airport, where we boarded a Southwest flight to Denver International; from there, we flew into Hayden Yampa Valley Airport, which is about 30 minutes away from Steamboat Springs. As promised, the good people of Vista Verde picked us up from the airport and drove us to our hotel in Steamboat Springs. (We stayed at the Steamboat Grand, which was right across the street from the ski lift. For more information visit steamboatgrand.com.)
After two fantastic days of skiing at Steamboat Springs, we were collected by the friendly people at Vista Verde in their SUV and driven to the ranch about 45 minutes away, pretty much in the middle of nowhere. But, what Michael and I came to learn very quickly is that this is exactly the point: to get away from the stresses of everyday life. A certain metamorphosis began the moment we crossed the threshold. For one, it's a spectacle of natural beauty. Nestled at the base of the mountain, it encompasses over 560 acres in Clark County. And, because Vista Verde is a working ranch, there were beautiful horses everywhere. This place is so far removed from the big city that we were literally forced to unplug. Between limited cell phone and Internet access, and being connected to Mother Nature in such a pure way, it compelled us to relax and connect with the world in the way that it was probably originally intended by the higher powers. 
We made it to the main house, where we were greeted warmly by our first names as if we were family, and that's also how we were treated by everyone—not just staff, but also our fellow guests—throughout our stay. Our greeter took us on a tour of the ranch, which was somewhat of a surreal experience in that we didn't see a single person on the duration of the tour even though the ranch can host up to 40 guests at any given time. Where was everybody? What had we signed up for? Well, something that called up memories of sleep-away camp as a kid, where the idea is to keep guests busy with planned activities throughout the day. Of course, all the guests were busy participating in one of Vista Verde's many activities which range from horseback riding, cross-country skiing, yoga, photography, dog sledding, snowshoeing, backcountry skiing, sleigh rides, sledding and much more.
After our tour, we checked into our cabin, we expected a lot of wood and basic amenities. Well, there was a lot of wood, but the amenities were anything but basic. This place was nicer than most luxury hotel rooms. Inside were top-of-the-line appliances, high-quality furniture, a fridge stocked with beer, wine and snacks; we also had our own private hot tub overlooking the horse pasture. It felt like home, but nicer. The staff makes you feel so comfortable, it's easy to forget where you are, and personal touches are everywhere—when you get a Vista Verde logo branded into your pancakes, you know they are all about exceeding the guests' expectations. Speaking of food, the private chef cooks everything from scratch, and just as you expect and hope for on such a sojourn—but not necessarily from an all-inclusive experience—the offerings were all topnotch. It's authentic western hospitality combined with the lodging industry's highest standards at its finest—and oh yes, you get to go skiing. For more information about Vista Verde Guest Ranch, as well as its summer activities, visit vistaverde.com.
Posted in Vista Verde in the News | Comments (0)